The Bus Ministry at Mount View
employs the injunction of our Lord to
"go out into the highways and hedges, and compel them to come in, that My house may be filled"
(Luke 14:23). The Bus Ministry provides free transportation to children and their families in the
Tualatin
area
. Service is provided each Sunday morning, both to and from church. Children riding the bus each week receive their own personalized "passport" qualifying them for quarterly outings in the Portland area. These outings have featured such attractions as the Zoo, OMSI, and the Family Fun Center in Wilsonville.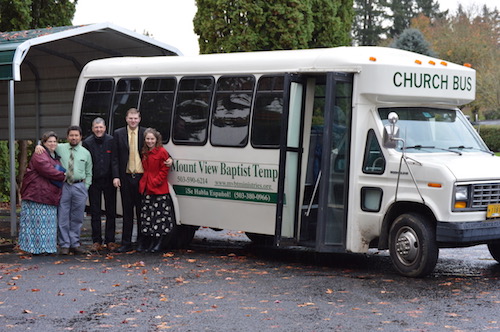 The Bus Ministry is staffed
each week with a CDL certified bus driver and adequate adult supervision. The bus receives regular maintenance and is inspected carefully each Sunday before leaving the church parking lot. The ride to and from church is safe, fun, and lively.
To arrange for service, please contact the church office.